Saint-Barth, November 22, 2015
Winners of the 8th edition of the St-Barth Cata Cup
The Belgians take home the honors !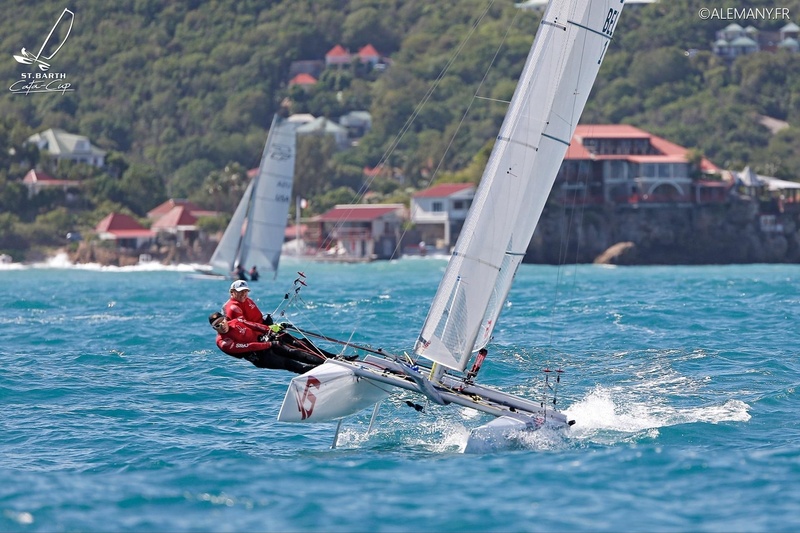 Regularity paid off for the Belgians Patrick Demesmaeker and Olivier Gagliani, who flirted with the top 5 throughout the event. «  After 7 editions here, the time was right. We are very happy! », said Olivier Gagliani. « There is a high level of competition at the Cata Cup and it's always fun to race against sailors that we have know for years, especially in these exceptional conditions. »
The final day concluded with a race taking the contestants to Public Beach. It was tight right up until the end as the Belgians had a very small margin to win in the overall rankings. Had crew Orion Martin and Charles Gaté scored 1 and Belgians 4, the French would have won the St-Barth Cata Cup.
Winners of the Marché U Prize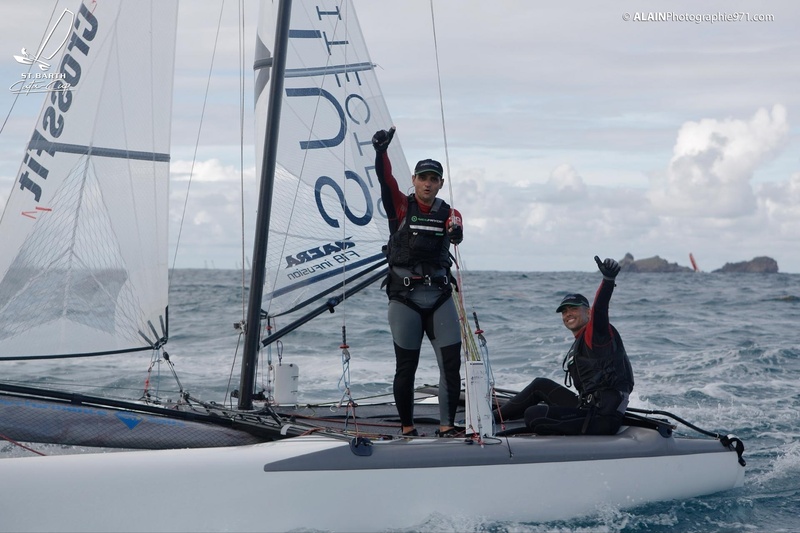 The race committe had planned 2 races for the Marché U Prize. Gurvan Bontemps and Benjamin Amiot won the first race while the second crowned the Argentinians Cruz Gonzales Smith and Mariano Heuser, who then ended up winning the day. « We noticed that the wind was close to the coast so our strategy was to go to the right to take advantage of it. This simple strategy paid off for us and we kept it for the second race », explainedCruz.
It was all about first times
Between a counter clockwise round-the-island raid that ended in the dark, Orion Martin and Charles Gaté's 3 consecutive wins, a first podium on the 3rd day for a crew from St-Barth and constantly changing winds, the 8th edition of the St-Barth Cata Cup was all about first times.
« Last year, we had very windy conditions sometimes forcing us to cancel races. This year, it's was exactly the opposite with very light winds. We even had to tow a couple of boats to St-Jean Beach», said Didier Flamme, President of the race committee for the St-Barth Cata Cup.
Speaking of firsts, Argentinia and the UK were represented for a first time in the history of the event. « We had a lot of fun, it's paradise here! », said Cruz Gonzales Smith. « The St-Barth Cata Cup is very well known in our country and we have always wanted to come. But due to conflicts with other championships, it has never been possible before now. We will be back for sure ! »
The F18 Class, still popular among racers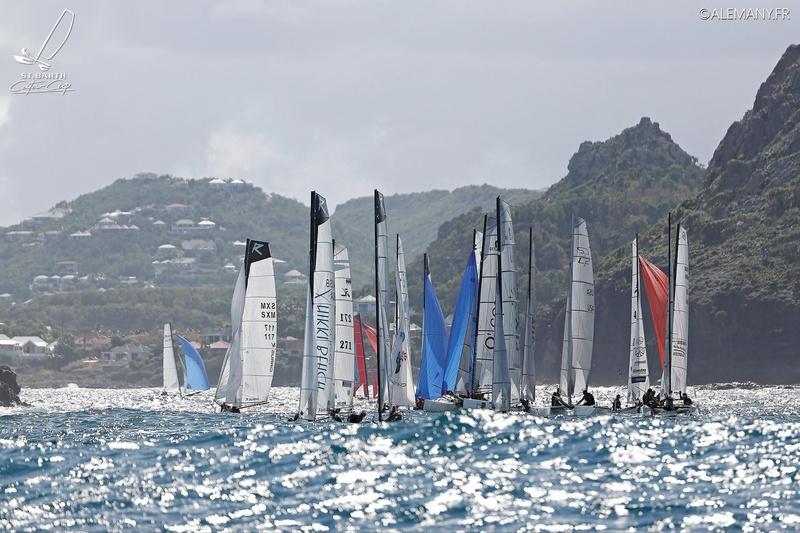 As an event par excellence for both amateurs and professionals in the F18 Class, the St- Barth Cata Cup has risen to the top ranks of regattas that offer a high level of competition. According to James Baeckler, president of the Association Française de F18, the success of the F18 Class is founded on events such as this. These regattas ensure the success and longevity of a class. Without great races, there would be no boats or happy sailors".
Benjamin Amiot has always enjoyed sailing this platform, and even more so in the St-Barth: « There's always a high level of competition at this regatta, and for us it's an excellent way to compete at the end of the season. »
Final ranking of the 2015 edition
1 : "ST BARTH SAIL RACING TEAM " DEMESMAECKER PATRICK, GAGLIANI OLIVIER (Belgique), 23 pts
2 : "ST BARTH ASSURANCES- ALLIANZ " MARTIN Orion, GATE Charles (France), 27 pts
3 : "ARCHITECTONIK " BONTEMPS Gurvan, AMIOT Benjamin (France), 30 pts
4 : "ODP " MOURNIAC Jean christoph, DEKYTSPOTTER Alexandre (France), 30 pts
5 : "LOTUS ARCHITECTES" GONZALEZ SMITH CRUZ, HEUSER MARIANO (Argentine), 34 pts
6 : "SAINT BARTH PROPERTIES " CASEY JOHN, PAGE COLIN (Etats-Unis), 36 pts
7 : "ODP" DELNOOZ ELKE, VAN LEEUWEN JEROEN (Hollande), 37 pts
8 : "L'ESPRIT " BOULOGNE Emmanuel, BOULOGNE Vincent (France), 39 pts
9 : "FLOAT AND SHOOT " DURAND Pierre-yves, LE CORRE Antoine (France), 43 pts
10 : "EMERAUDE PLAGE " BROUWER CAROLIJN, BUNDOCK DARREN (Belgique), 53 pts
11 : "COTE PORT " BAECKLER James, FANOUILLERE David (France), 71 pts
12 : "TROPICAL HOTEL " FAUSTIN JUAN, ARAGONES NICOLAS (Argentine), 74 pts
13 : "TRADEWIND AVUIATION " RICCARDI TODD, ARAS EVAN (Etats-Unis), 76 pts
14 : "NIKKI BEACH " LAGARRIGUE Jeremie, DINSDALE Andy (France), 81 pts
15 : "DESIGN AFFAIRS " GOODCHILD Sam, SCHOENAHL Milena (Grande-Bretagne), 89 pts
16 : "CARAIBES CLEANING " GUIHENEUC David, TURTSHI Noah (Saint-Barthélemy), 118 pts
17 : "AUBERGE DE LA PETITE ANSE " LOOS GERARD, VAN RUITTENBURG PIETER (Espagne), 121 pts
18 : "O'CORAIL " LAPLACE Turenne, LAPLACE Patrick (Saint-Barthélemy), 121 pts
19 : "GUANAHANI " BRACCO JACOPO, BURD TRIPP (Etats-Unis), 122 pts
20 : "INTENDANT SERVICES " BOC HO Frederic, BOC-HO Anne (France), 123 pts
21 : "UHART " FOUCHIER Thierry, ROMANO Jean pierre (France), 132 pts
22 : "SAINT BARTH ATTITUDE " NOORDZIJ AD, NOORDZIJ MAARTEN (Hollande), 133 pts
23 : "SBSA " RAISANEN MIKKO, ROMPPANEN JOUNY (Finlande), 134 pts
24 : "FBM AUTOMOBILES " BOURGNON Yvan, MEYERS Jean michel (France), 134 pts
25 : "SAINT BARTH SAILORS " PAUMEN BAS, MELS TONY (Hollande), 142 pts
26 : "BARTH LOC " MARSHACK KEN, HUNT BRYAN (Etats-Unis), 146 pts
27 : "BUDGET " KERVYN Tanguy, VAN DEN EYNDE JORIS (Belgique), 146 pts
28 : "FILLES DES ILES " BOUEILH ANTHONY, LAROCHE PATRICK (Canada), 148 pts
29 : "RE/MAX " LOISELLE MAXIME, LEDUC OLIVIER (Canada), 154 pts
30 : "NORD ELEKTRON " BEZON Eric, CHAPENOIRE Emmanuel (France), 164 pts
31 : "ST BARTH ASSURANCES- ALLIANZ " LEDEE Jean-francois, JORDIL Vincent (Saint-Barthélemy), 166 pts
32 : "TRADEWIND AVIATION " HARMALA Markku, LEDEE Jean-noel (Saint-Barthélemy), 170 pts
33 : "AVIS " BLIN Frank, BLIN Nicolas (France), 182 pts
34 : "LE NORMANDIE " JENSEN JAN HEDMAN, WYON PENNY (Danemark), 184.5 pts
35 : "ST BARTH ASSURANCES- ALLIANZ " BADER Cedric, FERAUD Julien (France), 189 pts
36 : "CIN " MARCHAIS Pascal, MATTIO Mikhael (Guadeloupe), 189 pts
37 : "CNSB " HOLMBERG JOHN, POLLIEN Sylvie (Etats-Unis), 191 pts
38 : "JULLBO " PILON OLIVIER, DESROCHERS JEAN PIERRE (Canada), 192 pts
39 : "BUDGET " RAY IAN, DARROW ARIELLE (Etats-Unis), 192 pts
40 : "LOTUS ARCHITECTES " DELBAERE Gael, BRIN Cindy (France), 198 pts
41 : "SAINT BARTH CONSTRUCTION " ALTIER Pierre, SILLEM Bernard (Saint-Martin), 218 pts
42 : "COB CARAIBES " VAN HAVERBEKE BART, SIMPELAERE BENOIT (Belgique), 222 pts
43 : "GILL " CARRO Patrick, MAMZER Michel (France), 230 pts
44 : "VOYAGER SAINT BARTH " CLEMENT Erick, SECHER Wilfried (Saint-Martin), 235 pts
45 : "KIKUYU " KIEFFER Berengere, MARCHAIS Valentin (Martinique), 238 pts
46 : "ELECTRO TOTO " MOLINARD Patrick, MEDINA Pascal (Martinique), 239 pts
47 : "ST BARTH ASSURANCES- ALLIANZ " LHINARES Thierry, BERRY Thierry (Saint-Barthélemy), 246 pts
48 : "ALAMO " KRAHE Birgit, ROUX Christian (Guadeloupe), 248 pts
49 : "SEGECO " PLATET Dominique, JOUAN Henri (Saint-Martin), 254 pts
50 : "MARCHE U " DABRETEAU Guillaume, GIACOMETTI Mike (Martinique), 259 pts
51 : "RE/MAX " GEOFFROY Stephane, GREAUX Franck (Saint-Barthélemy), 273 pts
52 : "RE/MAX " JOSSE Gael, MATHIOT Charlotte (France), 281 pts
--- : "WEST INDIES SAILS " KLOPPERS PETER, KLOPPERS PETER JAN (Hollande), 336 pts
--- : SEIFERT CASPER, ALMSTEDT HENRIK (Suède), 336 pts
--- : CAVIEZEL SANDRO, CAZIEVEL DAVID (Suisse), 336 pts