19/11/2023
Hard-Fought Victory For Ravi Parent & Nicolas Lovisa!
While last year's winners Tim Mourniac and Pierre-Yves Durand were assured of first place even before the final day of competition, this year was the opposite, and we had to wait until the very last moment to find out the names of the winners of this 15th St.Barth Cata Cup. So much so, in fact, that victory was initially announced as going to the duo Gurvan Bontemps - Benjamin Amiot (Pixail), before finally being awarded to the duo of Ravi Parent - Nicolas Lovisa (Maxwell & Co for man and woman). At the end of the day, the Americans, who finished in eighth last year on their first appearance in the regatta, beat their rivals by one tiny point, while Argentina's Agustn Krevisky and Nicolas Aragones (Design Affairs OO1) completed the podium in third place.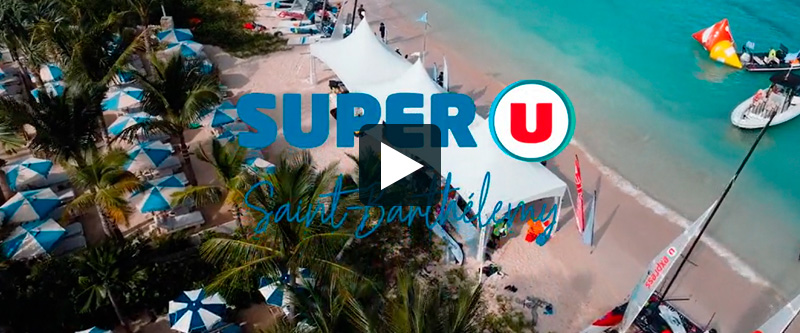 "When we hit the water this morning, the tension was palpable. The points were very close in the provisional rankings after the first five races. We knew that the day would be decisive, especially with only one race on the schedule, there would be no room for error," said Ravi Parent, who had a lead of just two points over his closest pursuers at the start of this final regatta, and not much more over the next closest ones. "We know that starts are very important here in Saint Barth. As it happens, Nicolas and I got off to a pretty poor start. So, we had to work like crazy to get back to the lead or, at the very least, reduce the number of competitors between us and our main rivals. We stayed focused right to the end, but we had a few cold sweats because our rivals were quite clearly ahead," explained the American, who finished in seventh place—his worst score of the week, but just good enough for victory. "We didn't expect anything to come of it, but we had to admit that things were pretty hot," said Ravi, who has added the Cata Cup to his list of honors for the first time. An already impressive list of achievements, including F18 World and European Championship titles in 2022. "We're obviously delighted. And all the more so because we're not used to sailing in similar conditions in Florida. We really had to outdo ourselves to win," added the helmsman. In fact, his fellow competitors gave him a hard time this week, including Tim Mourniac and Pierre-Yves Durand (Segeco) and Emeric Dary and Joris Cocaud (Allianz), although the latter were quickly knocked out of the overall standings after being disqualified in races 1 and 2. "There was a great battle right to the end," confirms Benjamin Amiot (Pixail), who showed remarkable consistency over the four days of racing, as he always does, systematically finishing in second place at the Cata Cup with his teammate in 2016, 2019, 2021 and 2022.

A Race Worthy of A World Championship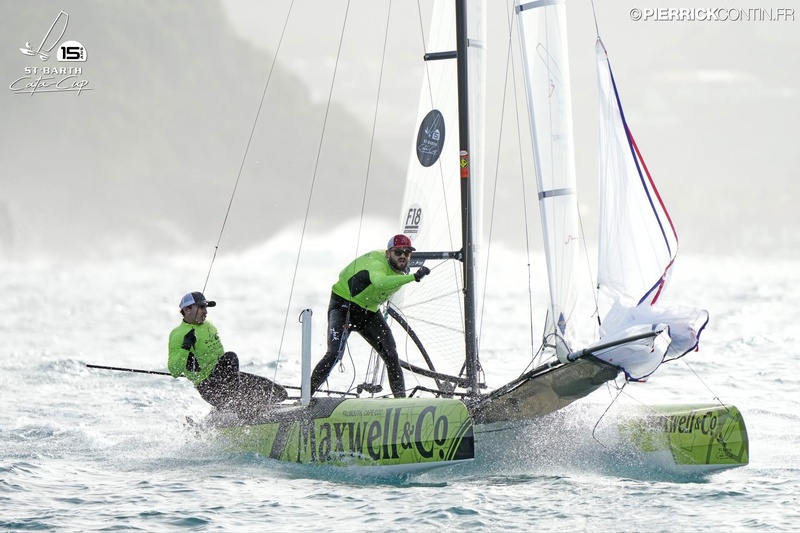 "Victory continues to elude us, and this time by just one tiny point! It's particularly frustrating since after crossing the finish line today, we went ashore all fired up, thinking that this time we'd won. We just missed it," says the sailor, who can nevertheless be satisfied with the fact that he's still right up there, despite the fact that he doesn't face many competitors in F18 during the rest of the year. "The St.Barth Cata Cup is our only F18 race. Each time, we have to find the right settings for the boat, and then both of us have to readjust on board. It always takes a bit of time. So we're really pleased to finish in second place, despite everything, especially given the big names in the race," says Benjamin Amiot, who finished sandwiched between some real specialists. These include Ravi Parent (whose usual partner is Severin Gramm), as well as Argentinians Agustin Krevisky and Nicolas Aragones (Design Affairs OO1). "It's our third participation in the race but our first podium," enthuses the Argentinian helmsman, who finished sixth in the World Championship in 2019. "We set out on the water with maximum pressure on our shoulders, especially after our disqualification for a premature start in Race 5 yesterday. We knew we had a lot to gain, but also a lot to lose, because while victory was clearly within our grasp, it wasn't impossible for us to be knocked off the podium," commented Agustin, who secured fourth place in this final round in the form of a half-turn around the island, starting in Saint Jean Bay and finishing at the beach in Public. "It was a magnificent regatta, with between 12 and 16 knots of wind and the usual allure of racing here. We got the job done and we're really happy to finish in the Top Three. We know it, and it's true every time, the level of the St.Barth Cata Cup is close to that of a World Championship. Both on and off the water, we really enjoyed ourselves, and we're already looking forward to coming back next year," concludes Agustin Krevisky.
Rankings
Find all the rankings on the site