18/11/2023
A Decisive Final Day
After two rather invigorating days of racing, the 56 crews of the St.Barth Cata Cup returned to lighter conditions on Saturday. But lighter doesn't always mean easier. All the crews had to deal with very unstable conditions, both in terms of strength and, above all, direction. In this context, consistency was certainly not easy, but the duos Gurvan Bontemps-Benjamin Amiot (Pixail) and Ravi Parent-Nick Lovisa (Maxwell & Co for man and woman) did remarkably well. The former won the "St Barth Assurances Allianz" Prize, while the latter climbed to first place in the provisional overall rankings. A ranking that continues to be turned upside down due to measurement issues. On Sunday, the final day of competition in this 15th edition, everything will be decided!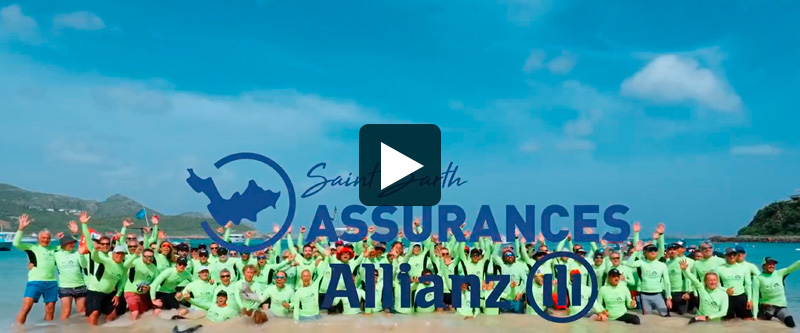 "It's been a great day. The fact remains that while it was clearly less physically demanding than previous ones, it was nonetheless very trying mentally!" summed up Gurvan Bontemps (Pixail), who makes no secret of the fact that he was pulling his hairs out a bit, trying to make the most of the incessant wind variations on the two courses of the day: the first between the Bay of Saint Jean then the Pelé and Le Boulanger islands; the second between the bay of Lorient and Anse des Cayes then a mark near Frégate. "It's extremely rare to have to deal with a southerly flow in Saint Barth. As a result, in our race zone, the wind was very unstable, with shifts of up to 45° and even up to 90° in some places, notably under the cliffs at Lorient," commented the Morbihan sailor, who nevertheless managed to stay consistently at the front. "We had to try and decipher all that. With Benjamin (Amiot), we got through it quite well," said the helmsman of Pixail who, after finishing fourth in the first race of the day, sailed to victory in the following heat after a tough mano-a-mano with Belgians Henri Demesmaeker and Jeroen Van Leeuwen (Ohana). "It's good to win a heat for the first time, and especially as it means we're closer together in the overall standings," said Gurvan Bontemps, who climbed from sixth to second place in the provisional standings, and is ideally placed for victory on the eve of the final day of competition.

Three Teams Competing For First Place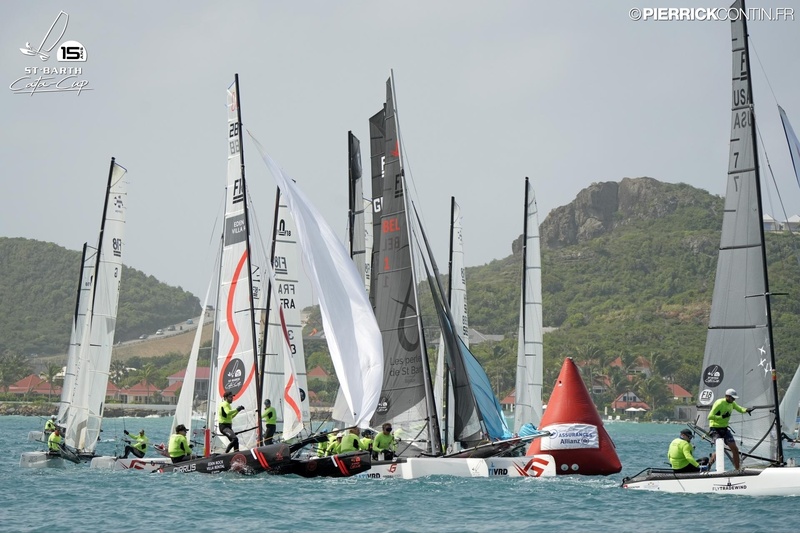 At this stage of the race, Bontemps and his teammate are just two points behind Americans Ravi Parent and Nick Lovisa (Maxwell & Co for man and woman), who also enjoyed a strong day and jumped up the rankings, while at the other end of the scale, a number of others have fallen back significantly. After Tim Mourniac and Pierre-Yves Durand (Segeco), who continued to sail at the front but dropped to 16th place following their disqualification in races 1 and 2, it was the turn of Emeric Dary and Joris Cocaud (Allianz) to be sanctioned by the jury for measurement irregularities (rudders). Although they slipped back to 18th place after adjudication and, like the other two, were deprived of their chance of a place on the final podium, they are nonetheless among the event's leading lights. "On the water, it's been quite a battle with a lot going on. That was especially the case today. It wasn't easy to keep an even keel in these very changeable conditions. We really had to rack our brains, be very reactive and dare to try a few moves to make up a few places. Clearly, there wasn't much room for error," said Joris Cocaud, who is taking part in the regatta for the first time. While the Ravi Parent-Nick Lovisa and Gurvan Bontemps-Benjamin Amiot tandems have a big card to play for victory, Argentina's Agustin Krevisky and Nicolas Aragones (Design Affairs OO1) are far from having said their last word, and a number of other duos are ready to pounce. Epilogue on Sunday!
Rankings
Find all the rankings on the site