24 novembre 2023
Preparations For The 15th St.Barth Cata-Cup Are Underway
In less than a month, the 55 teams registered for the 2023 St.Barth Cata-Cup will be battling it out on the waves, with multiple contenders for the ultimate victory. Among them, Tim Mourniac and Pierre-Yves Durand who will be back to defend their title, while other big names from the F18 circuit include Mitch Booth, double Tornado Olympic medalist, as well as Swedish sailor Rasmus Rosengren, winner of the F18 world championships last July. In short, there is plenty to celebrate for the 15th anniversary of this regatta!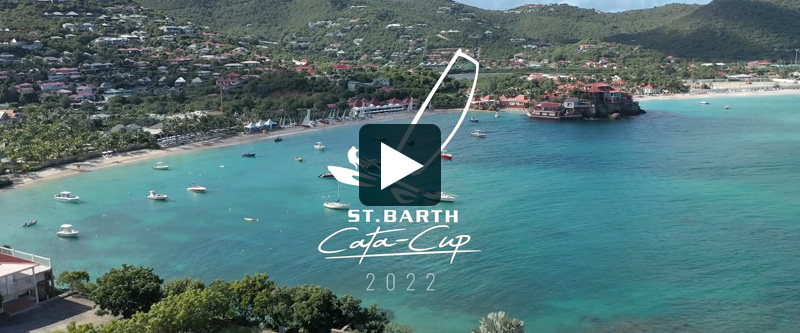 The well-oiled machinery for the St.Barth Cata-Cup has been set in motion. At this time, containers carrying the boats from Europe are on the way across the Atlantic on cargo ships. Perfect timing to calmly get get ready for the first races scheduled on Thursday, November 17. "There is already excitement in the air," notes Tim Mourniac, last year's reigning champion along with teammate Pierre-Yves Durand, who will be sailing together for the second consecutive time in the upcoming Cata-Cup. "As always, big names are expected and the regatta will be highly competitive," adds the winner of the Tour de France for Sailing in 2018, Junior Nacra 15 World Champion in 2016, and currently a member of the French Nacra 17 double mixed team with Lou Berthomieu, and who made quite a splash last year by winning all seven of the official races. "That performance was truly exceptional. We are coming back this year hoping to do as well, but we know the bar is set very high, almost too high," continues the Frenchman, whose goal, in addition to good results, is to really enjoy the idyllic setting of Saint Barth, with its incredible sailing conditions and a multitude of natural marks. "The goal is to enjoy ourselves as much as possible and share some good times. I know that once again it will be a great event, both on the water and on the shore," note Tim, who will arrive in the French West Indies directly after the Nacra 17 European Championships, scheduled November 8-13 in Portugal. A major race on his annual calendar, in which he will compete with Aloïse Retornaz, as his usual teammate is injured.
A Top-Notch Cast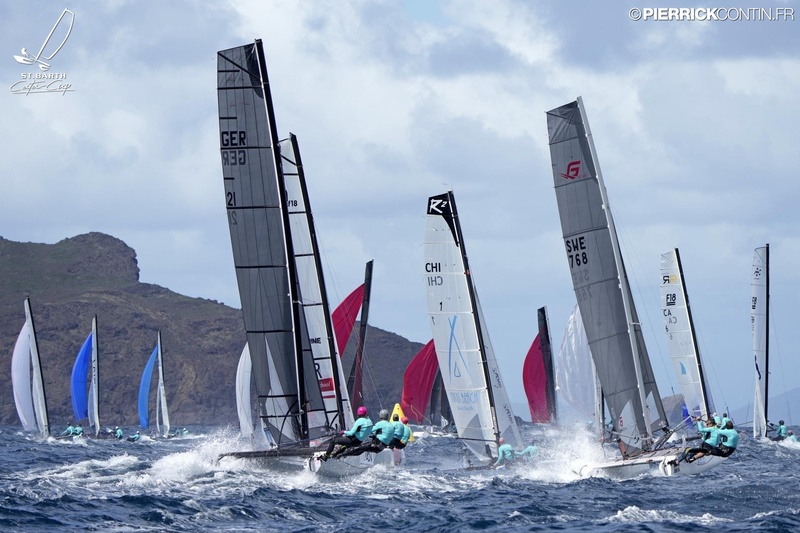 High-performance as well as enjoying the conviviality that is unique to this event are among the motivations for the roster of competitors in the St. Barth Cata Cup, as confirmed by Matthieu Marfaing, crowned F18 champion of North America in Burlington, Canada, just a few days ago. "The Cata-Cup has a great ambiance and it's always at a very high level. To win is very gratifying," says the Frenchman who lives in the United States, and will once again sailing with Emmanuel Boulogne, the only participant in the history of the race not to have missed a single edition since it was created in 2008. "Le Mondial this summer did not go so well for us, but we still have high hopes. We are well prepared and we have made some improvements to the boat, which help us remain more constant in terms of speed," adds Matthieu, who definitely has his eye on the podium for this 15th anniversary edition. An edition that promises to be hotly contested, with some very big names on the starting line.
One of the notable names among them is that of Mitch Booth, a veritable "legend on legs," with no less than 13 world championship titles and four appearances at the Olympic Games for sports catamarans; the last time he was in this race was in 2018, and after competing with his children, Rita then Ruben, this time he will sail with his son Jordi. But this Dutchman is not the only one to watch. Swede Ramus Rosengren, who stood on the top step of the podium at the F18 championships a few weeks ago at Travermünder with Emil Järudd, is clearly to be counted among the top favorites. Same for American Ravi Parent, Belgian Patrick Demesmaeker, and the Argentines Cruz Gonzales Smith and Mariano Heuser, regulars at the St. Barth Cata Cup and all in the Top 12 in Germany this past summer. Also in this exceptional cast, one must not forget Gurvan Bontemps and Benjamin Amiot who continue to seek victory after four second place finishes in 2016, 2019, 2021, and 2022. Other contenders are "newbies" such as Henri Demesmaeker (son of Patrick) and Jeroen Van Leeuwen. Demesmaeker is already facing the tandem of Tim Mourniac – Pierre-Yves Durand in ETF 26 and Van Leeuwen won the F18 Mondial in 2008 with Coen de Koning and again in 2011 avec Darren Bundock. "Those guys rarely show up at a race just for the cocktails," notes Matthieu Marfaing. For all of them, having fun and sailing on the exceptional waters around St Barth is one thing, but the quest for victory is the real goal!