November,15 2023
The Battle Is About To Begin!
After a day devoted to assembling the boats, confirming entries, and final training sessions, the 56 duos taking part in the 15th edition of the St.Barth Cata Cup are getting ready to hit the waves. On Thursday, starting at 9:30 am, they will start the first race of the event, which promises to be lively, with between 15 and 20 knots of east-southeasterly wind forecast for the entire weekend. This promises to be a high-flying regatta, which will certainly not displease the big guns in the series, starting with title holders Tim Mourniac and Pierre-Yves Durand (Segeco), who left nothing but crumbs for their opponents last year, but whom their rivals intend to upset this year!

Argentinians Cruz Gonzales Smith and Mariano Heuser (Woodstekke), Australians Mitch and Ruben Booth (Saint Barth Assurances), Belgians Patrick Demesmaeker and Olivier Gagliani (Les Perles de Saint-Barth - Bativrd), Henri Demesmaeker and Jeroen Van Leeuwen (Ohana), Sweden's Peter Busck and Rasmus Rosengren (Villa Taniko), Americans Ravi Parent and Nick Lovisa (Maxwell & Co for man and woman), Gurvan Bontemps and Benjamin Amiot (Pixail), Emmanuel Boulogne and Mathieu Marfaing (Avant Toi), and Orion Martin and Charles Gate (Helmet Plus) are all among the favorites. What do they have in common? They're all determined not to let Tim Mourniac and Pierre-Yves Durand (Segeco) dominate proceedings, as they did last year. "At the end of the day, of all of us, they're the ones with the most pressure on them!" assures Gurvan Bontemps, who is looking forward to the upcoming races. "We should enjoy great conditions all week, with between 15 and 20 knots of wind. It promises to be a great battle: while every year there's a very high level of competition in the St.Barth Cata Cup, this year's field is especially strong, with the presence of some true legends of sport catamarans," continues the Morbihan native who, with Benjamin Amiot, continues to chase victory after four second-place finishes in 2016, 2019, 2021 and 2022. Will the 2023 edition be the charm? "Every year, we fight for it, but for the moment it still eludes us, and it's almost as if we bought our second place finishes even before the start. Finishing on the podium again this time will be a great performance, in any case", says the helmsman, who will be joined by other great regulars of the Cata Cup, as well as "newcomers" such as Henri Demesmaeker and Jeroen Van Leeuwen (Ohana).
The first test tomorrow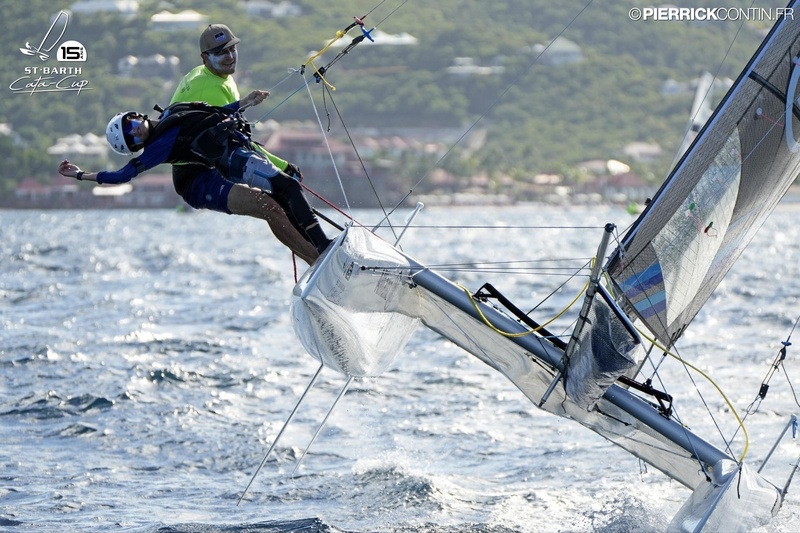 "We're hoping to measure ourselves against the people sailing ahead of us, and do some good moves to make sure we have nothing to regret at the end," explains Henri Demesmaeker, F16 world champion in 2012 with his acolyte . "We haven't sailed together for several years now, but we've both had a lot of experience on other types of boat, and we're delighted to be back together for this regatta. We don't know where we'll stand, or which places we'll be able to compete for. We'll know better tomorrow evening, at the end of the first day. As for me, I'm used to rubbing shoulders with Tim and especially Pierre-Yves on the ETF26 circuit. With Jeroen, we hope to give them a hard time, or at least tickle them a bit, but we know it won't be easy if they're as fit as last year!" adds Henri Demesmaeker, who will be up against his father Patrick, one of the event's loyal followers. "My dad and Olivier (Gagliani) have already taken part in the race 14 times. This experience is bound to be to their advantage", says the young Belgian, eager to get to grips with the race and discover the water, which is as magical as it is technical. "The conditions promise to be idyllic. We can't wait to surf the Caribbean waves and race between the many islets. It promises to be very tactical. So, will the defending winners be able to win again? Or will certain duos pull off a surprise? Or, as is often the case, will the match be decided on the last tack of the last race? With the competition about to kick off, all bets are off!
Thursday, November 16, schedule:
9:30am: Race - "DESIGN AFFAIRS-OO1" Prize
7pm: Opening ceremony at Gypsea Beach by invitation
Announcement of the results for the "DESIGN AFFAIRS-OO1" Prize
Cocktail reception