November 6th, 2019
A Sold Out Regatta!
The 12th edition of the St. Barth Cata Cup is right around the corner, and it's a full house. As of today, with 60 duos registered, the regatta is, as they say, sold out! This of course makes the organizers extremely pleased, as the event gets bigger and better every year, from competitive battles on the waves to a roster that is more impressive in terms of quality, featuring many of the best international Formula 18 champions, as well as light sailboat experts, talented amateurs, and a few newcomers attracted by the format of the races. Here's the scoop.
St Barth-Cata Cup 2018 - Pascal Alemany
The clock has started ticking for the organizers of the St. Barth Cata Cup. It's now less than three weeks until the starting gun for the 12th edition and the event is already certain to put on a great show, with very competitive, high-level races. And for good reason as this regatta reserved exclusively for Formula 18 catamarans, will feature 60 teams of two, including some of the top specialists in this class, such as defending champions Belgians Patrick Demesmaeker and Olivier Gagliani, or Konstantinos Trigonis from Greece, and Argentineans Cruz Gonzales Smith and Mariano Heuser, respectively second and third in the world championships for the class held last summer (more details in last month's press release), as well as a multitude of different demographics.
The first difference is generational, as of the 120 racers this year the age range is 19 to 68, the youngest being Argentinean Octavio Doberssan, while American Ken Marshack is the oldest. Marshack, one of the leaders on the Class A circuit in the US for many years, is one of those sailors who decided to race with a family member in St. Barth on November 20-24, where he will team up with his son Eric, along with Patrick Carro and his son William, who are French.
There are also brother duos, rather than father and son, such as the Boulogne brothers Emmanuel and Vincent. Regulars at the regatta, these Northern French sailors hope to threaten the leaders, and beat their eight place finish last year.
There are also those who sail as couples, such as Austrians Manfred Zeissel and Evelyne Haselsteiner, Danes Jan Jensen and Penelope Wyon, as well as Paul Marette and Justine Lelieur or Frédéric and Anne Boc-Ho from France. The latter are returning after a three-year absence, while others are discovering the St. Barth Cata Cup for the very first time. That is the case for Jonathan Suau and Mario Tassis from Martinique, as well as the Saint Barth duo Brice Molina and Yannis Delvas, who knows the event like the back of his hand, having covered it via drone on behalf of the organizers for the past few years.

France Well Represented, USA In Force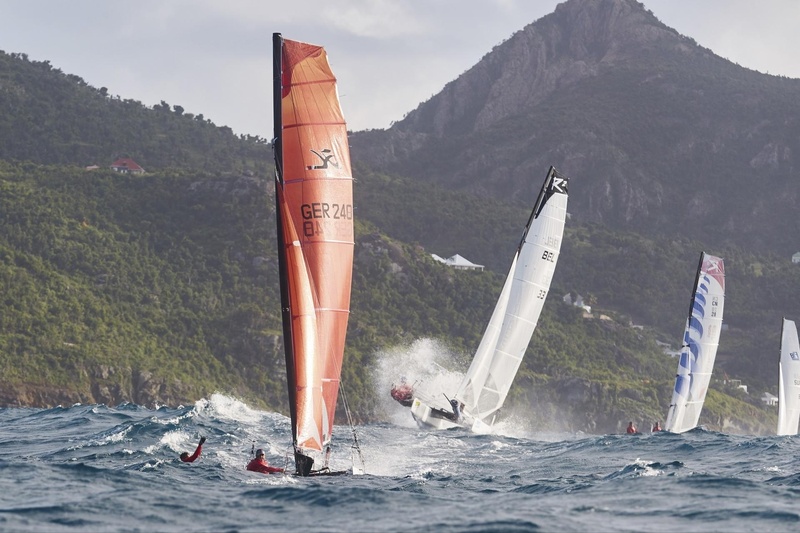 St Barth-Cata Cup 2018 - Michael  Gramm

Taking a closer look at the roster, there are many different countries represented. Thirteen to be exact: Argentina, Germany, Belgium, Canada, Greece, Sweden, Switzerland, Austria, Denmark, The Netherlands, Morocco, USA, and France. If France is by far the country with the most teams, (a total of 29 with Martinique, Guadeloupe, Saint Martin, and Saint Barth included), the United States is also represented in force with 11 tandems set to race.
Perhaps not well known in Europe, certain of these sailors have a lot of F18 experience, others are experts in Class A, Flying Phantom, Extreme 40, the GC32, or M32. That is the case for John Tomko, who will sail with Jonathan Atwood, as well as for Tripp Burd (brother of Trevor, a member of the American Magic team for the America's Cup). Burd will team up with Charles Tomeo, who has changed partners after three years as a duo with Dalton Tebo, who will once again be present, but this time with Ian Ray. In short, there are all kinds of sailors from near and far taking part in this iconic regatta. Sailors who understand that in Saint Barth high-level racing goes hand-in-hand with conviviality!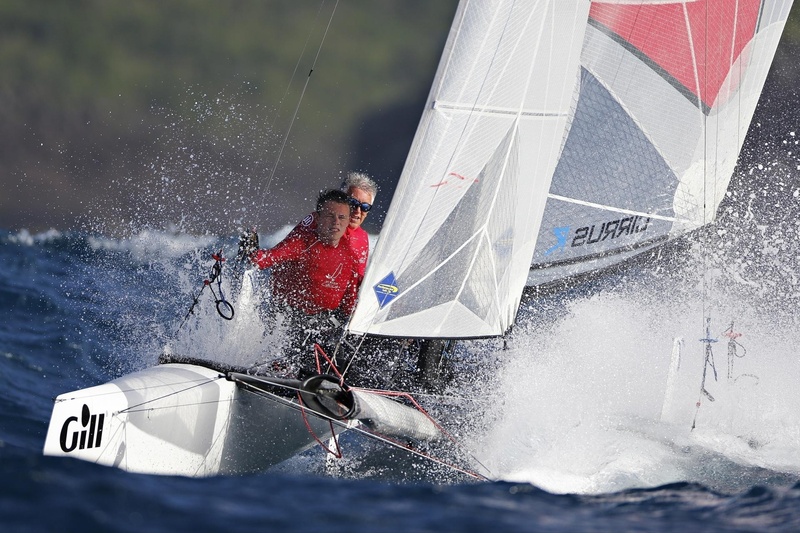 St. Barth Cata-Cup - Pascal Alemany