Tuesday, October 8, 2018
Race Boats Heading To Saint Barth
With the 11th edition of the St. Barth Cata-Cup setting sail just a month and a half from now, the organizers are getting everything ready to properly welcome the competitors. In Europe, on the last Friday in September, nine boats were loaded into a sea container that left Hyères to cross the ocean toward the Caribbean, while two other large metal cases with a total of 19 Formula 18 cats will be ready to leave on October 10 from Gravelines. The plan is for them all to arrive the week before the regatta in Gustavia. This is perfect timing so that the 55 duos registered to date, as well as two tandems with wild card status—Mitch and Rita Booth and Enrique Figueroa and Ruben Booth—to get their bearings out on the water before moving on to the more serious task at hand.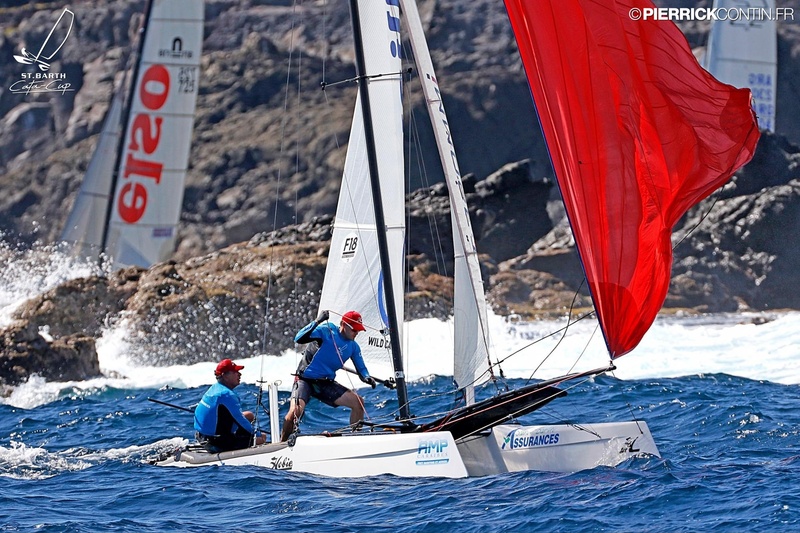 Mitch Booth & Andy Dinsdale – St. Bart Cata-Cup 2016
The well-oiled machinery that runs the St. Barth Cata-Cup is already hard at work. For the moment, the sea containers bringing the race boats from Europe are ready to be shipped across the Atlantic Ocean by cargo ship. In fact, if the first one left the Var last week, the next two will be loaded in the next 10 days in the north of France, as explains Emmanuel Boulogne who wears two hats for the Cata-Cup, that of a competitor as well as that of the director of the company, Boulogne Conception Marine, which serves as a centralized shipping point for the race boats in Europe: "On October 10, at 10am, two containers holding nine and ten boats respectively, will leave Gravelines. If all goes as planned they will arrive in St. Barth four or five days before the first race. Perfect timing, if a little tight, "If there is a hiccup, our only choice will be to go to the beach," jokes Boulogne, who has not missed a single edition of the race since its debut in 2008, and is not at all worried about the success of the shipping operations.
Complex Logistics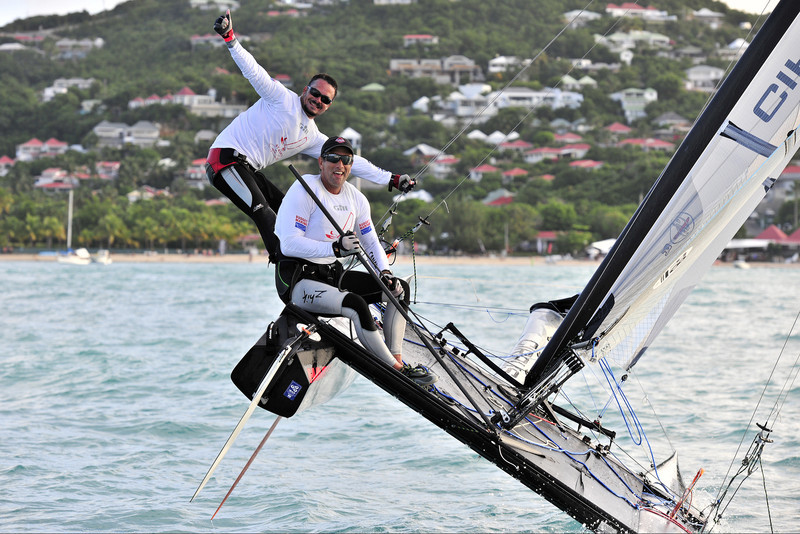 Enrique Figueroa – St Barth Cata Cup 2012
Boulogne is certainly more than experienced at this sort of thing, and one of his Cirrus is en route to Sarasota, Florida, right now for the F18 Worlds 2018. "That event takes place October 12-19. Considered its proximity to the dates in Saint Barth, it calls for some complex logistics and requires having two boats," points out the winner of the 2008 Cata-Cup, who will sail in Florida with Frenchman Matthieu Marfaing, based in San Francisco, and has frequently raced as a duo with Gurvan Bontemps. "We have not raced together until now. We'll have to see how that turns out," adds Boulogne, who will race in the United States against Greeks Iordanis Paschalides and Trigonis Konstantinos (who were the winners last year in Saint Barth), as well as against such other stars as Mitch Booth, who will make a return appearance on the beach in Saint Jean in November, following his first participation 2016 with Andy Dinsdale. "Mitch is someone I have known since the early 1990s. He is a major champion and I am thrilled to know he will be back for the St. Barth Cata-Cup this year," notes Boulogne.
When The Big Guys Race With Their Kids...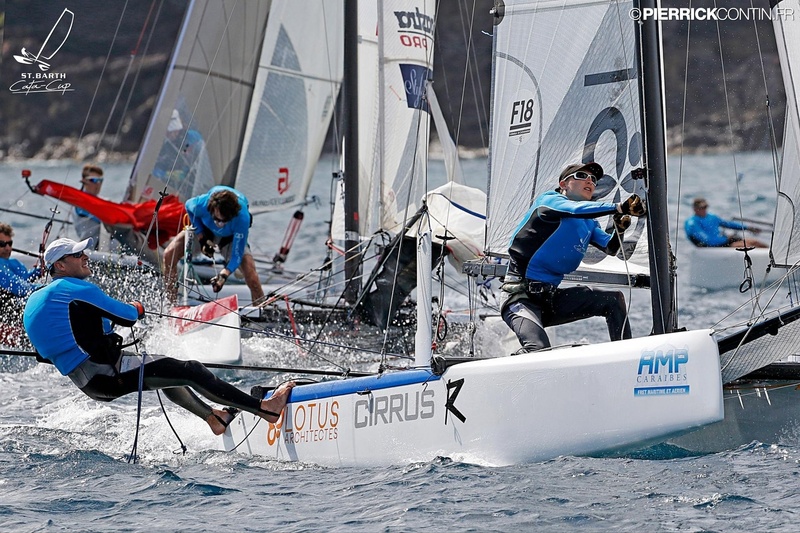 Emmanuel Boulogne and this son Jean
A double Olympic winner (bronze in Barcelona in 1992 then silver in Atlanta in 1996), Boulougne has one other unusual thing going for him—racing with his offspring: this year he will sail with his son Jean, as he did in 2011 and 2016. At the same time, Mitch Booth with form a duo with his daughter Rita. His son Ruben will sail alongside another big F18 champion, Enrique Figueroa, who won here in 2012, and was also invited by the organizers. "It's not by accident that we decided to give wild cards to Mitch Booth and Enrique Figueroa. These are two of the biggest names, two top figures for sport catamaran racing. The first has 14 world titles to his name for Tornado, Hobie Cat, F18, and n Extreme 40. He has also participated in the Olympic Games four times, as has Puerto Rican Quique Figueroa, who we are happy to welcome back just one year after hurricane Maria," comments Vincent Jordil, a member of the organizing team, and also a racer, who is extremely pleased at the level of the competition this year and the enthusiasm that the competitors have for the event. "One thing clear is perfectly clear: we don't come to St. Barth to go on vacation with our family, but really and truly to race and try to win!" says the Austrian Mitch Booth, who is now a naturalized Dutch citizen. And if he sails with his kids, it's because they are also true champions. In fact, the younger one (age 16) won the World Hobie Wild Cat title, while the older one (age 18) recently finished third in the European F18 Championships (with his father) in Spain last July. If the St. Barth Cata-Cup is a family affair for some, it is safe to bet that once again it can hold its own against the biggest international events.