November 16, 2022
Ready To Do Battle!
After a day spent assembling the boats, confirming registrations, and final training exercises, the 57 teams racing in the 14th edition of the St. Barth Cata Cup are ready to hit the waves. That will be on Thursday starting on 9:30am, when they set sail for the first race of the regatta. A race that promises to be challenging with between 15 and 20 knots of wind from the northwest sector expected throughout the week. This should make the regatta high-octane, which is good news for the top guns in the race, starting with the title holders, Argentineans Cruz Gonzales Smith and Mariano Heuser (SDBE) who as we know love the breeze. They will be facing such sharp competition as American Ravi Parent (Maxwell & Co for man and woman), 2022 F18 world champion, Belgians Patrick Demesmaeker and Olivier Gagliani (Les Perles de Saint-Barth – Bativrd), as well as Frenchmen Gurvan Bontemps and Benjamin Amiot (Pix Sail), Tim Mourniac and Pierre-Yves Jorand (Segeco), Emmanuel Boulogne and Mathieu Marfaing (PNF), and Pierre Le Clainche and Antoine Joubert (Wood Stekke), to name just a few.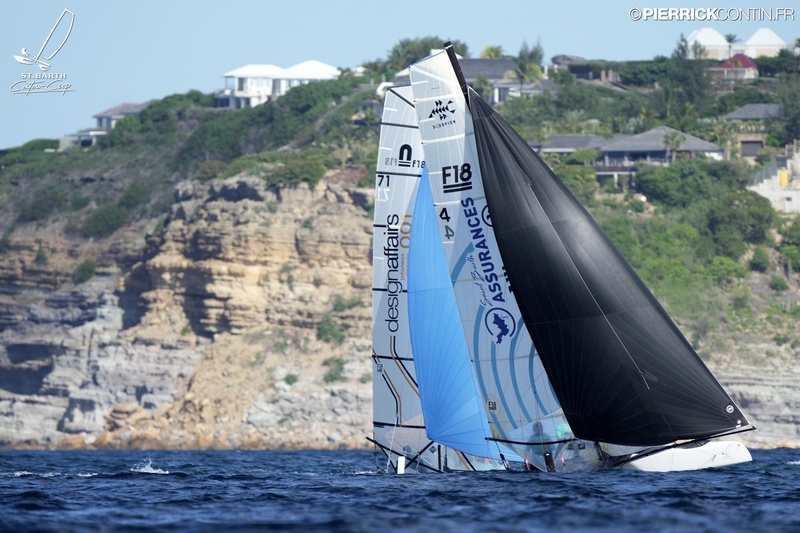 "Frankly, there is a great roster. We will have navigated with most of the sailors throughout the training days and take the temperature of the competition, especially the top dogs who regularly sail in this regatta. We feel there will be a good fight. We are really ready to get on the starting line with them!" comments Tim Mourniac, a new but formidable competitor for the 14e edition of the St.Barth Cata Cup, impatient to do battle and discover the water around the island, which is a magical as technical. "We did a last little warm-up tour this afternoon to verify that all is okay aboard the boat and fine tune the final details for tomorrow. We know we are going to have a great and the competition will be stiff. Between American Ravi Parent, the world champion, the Argentineans who are also very strong on the international scene, we will be up against true F18 specialists. It's really top for us to have the chance to race against them and compare our level with the top guns in the class once again this year,: adds the young helmsman, who would love to add with regatta to his list of wins. His CV is already pretty full, avec a victory at the Tour de France for sailing in 2018 and a Junior World Champion Nacra 15 title won in 2016, which is enough to worry his future adversaries. "Tim has already done many raid-type events on sport catamarans. He loves the culture of long-distance racing, and his dad, Jean-Christophe, is actually a legend at the St. Barth Cata Cup. We know he's fast and he's not the only one," comments Mathieu Marfaing, another contender for victory this year, sailing with Emmanuel Boulogne.
New Names, New Contenders For The Title
Like every year, there are many sailors chasing first place. But all eyes this time are on the young prodigy Ravi Parent. Crowned champion of Europe, America, and F18 Worlds, as well as world and American Class A champion this season, the American has arrived at the Cata-Cup with, legitimately, strong ambitions. "He's someone who will certainly do well. Will he be at ease enough on the double trapeze, for example, as he is on "banana-type" races. At the moment, that is still the question," notes Mathieu. The other question about Ravi, that is on everyone's lips, is to know that if, without his traditional partner, he will perform as well. "That puts a little more pressure on the shoulders of Nick Lovisa, but I am sure they will do very well," adds the teammate of Emmanuel Boulogne, who hopes to lead the pack and show off his new Cirrus 90 that was just born. "The development work took a little longer than expected, but we are ready to go. I think it will go well, but the boat can't do it all. We are going to have to sail well and pay attention on the water. Since there will be strong wind, there will evidently be some breakage for everybody. Those who attack the best and lift their feet at the proper moments, will, in my opinion, have the advantage," says Mathieu Marfaing.
Give Your All And Have No Regrets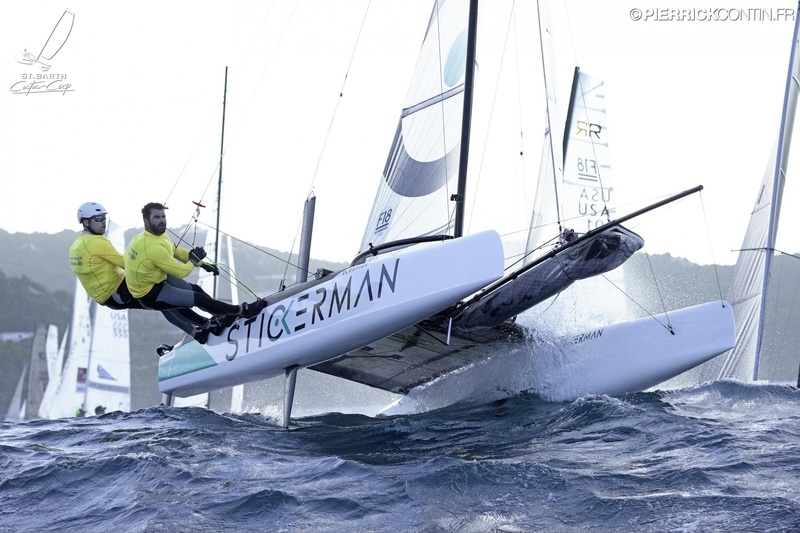 An opinion shared by Benjamin Amiot who, wiith Gurvan Bontemps, would love to sail to victory, after three second-place finishes in 2016, 2019, and 2021, and finally stand on the top step of podium. "That's the goal, and has been our goal over the past few years. We hope to have done what it takes for us to be in the front for this 14th edition. There is a lot of competition and very big names, but you can't count us out! Twice, the gold escaped us by only one or two very close points. The St. Barth Cata Cup is always very close and you have to give your all to avoid having any regrets at the finish line. We hope to have learned enough from our prior participations to be able to win this time," explains Benjamin, who is happy to find his friends Pierre Le Clainche and Antoine Joubert among the racing duos. "That happened at the last minute because the teammate I was supposed to sail with, (Hungarian Csaba Csetenyi, editor's note), had to go home for professional reasons. The opportunity to race with Pierre was totally by chance. Turns out he was going to be in the Antilles to escort a boat for the Route du Rhum, and as a result he was readily available," relates Pierre. Together, these two men already won the title in 2016. Can they do it again in 2022? Will other duos create a big surprise? Will the race be decided, as it frequently it, decided on the last tack of the last race? The bets are on!
Schedule for Thursday, November 17
9am: Briefing for DESIGN AFFAIRS-OO1 Prize
9:30am: DESIGN AFFAIRS-OO1 Race
7:30pm: Opening ceremony at GYP SEA (by invitation)
Announcement of DESIGN AFFAIRS-OO1 Prize results
Cocktail party