16 octobre 2022
One month away!
It's just one more month until the starting gun for the 14th edition of the St. Barth Cata-Cup, and the organizers are busy getting ready to welcome the race teams in style. In Europe, the boats have already been loaded into containers that left from Hyères, Gravelines, and Le Havre to head toward the Caribbean. They are scheduled to arrive within the two weeks before the festivities begin in Gustavia. Perfect timing to allow the 55 duos registered as of today to get out on the waves before seriously attacking the races. And it already looks as if the battle will be glorious with a tasty mix of talented amateurs and seasoned professionals, including Argentinian title holders Cruz Gonzalez Smith and Mariano Heuser, who also placed third in the F18 World Championships last Sunday in Florida!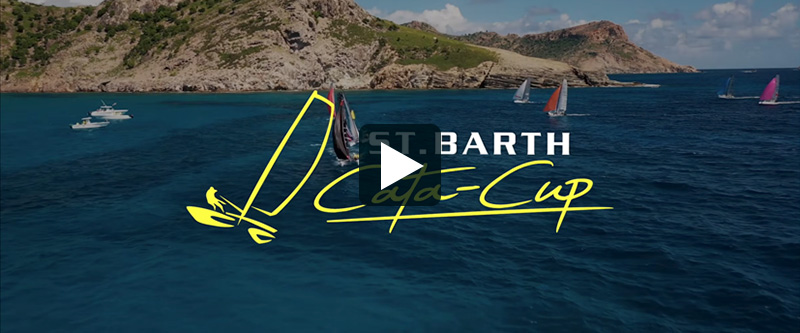 The well-oiled machine of the St. Barth Cata-Cup is running smoothly. At this time, the cargo containers bringing the boats from Europe are on their way across the Atlantic. "During loading, it all went very well. In Hyères, the support we had from Arthur Bo-Hoc was especially important," notes Orion Martin, who was in charge of centralizing the race boats in the South of France. "If all goes as planned, the F18's will arrive in Saint Barth two weeks before the opening of the event," notes Orion Martin, who placed second in the 2015 Cata-Cup with Charles Gate. The timing is perfect, to calmly prepare for the first races which are planned for Thursday, November 17. "That is right around the corner. As for me, I can't wait since other than training for the Spi Ouest-France, a race that my teammate and I were ultimately unable to do, I have not sailed on an F18 since the last edition of the Cata-Cup a year ago, but if there is only one race to do, it might as well be that one!, adds Orion Martin, who is from Southern France, and as usual plans to try and rock the boat in terms of the front runners in the regatta. "To shake up the top ten, that would be funny, and we hope to do battle with them, even though we know it will not be easy this time once again, as the level of competition looks very high. We are ready to give our all, but the main thing, as usual, will be to have the maximum of fun on the water. This Cata-Cup, since it was created, is above all about togetherness. The organizers do all they can so that the racers are happy, and that is certainly the case," confirms Orion Martin, who did not want to miss this regatta under any circumstances.
Cruz Gonzalez Smith: A Title At Stake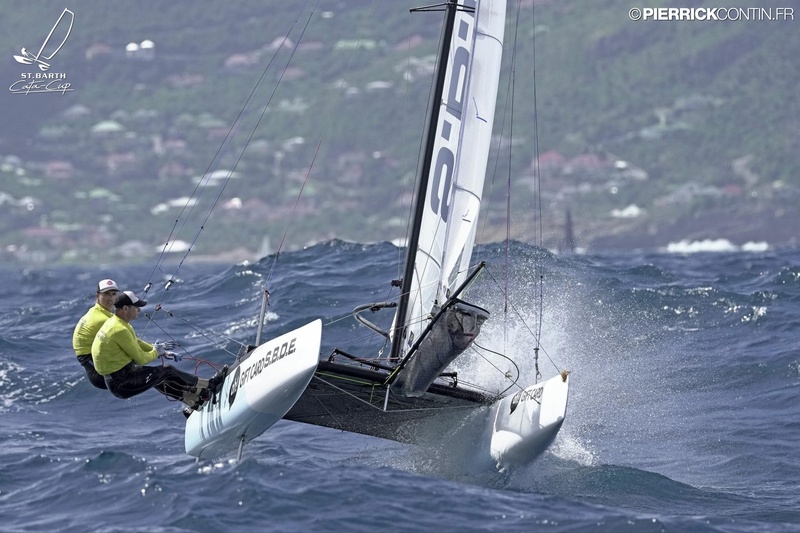 It's the same story for Patrick Demesmaeker and Olivier Gagliani. Among the most faithful of the faithful at the Cata-Cup, the Belgians are getting ready to take part in the regatta for the 12th time, starting with their first appearance in 2009, and they could possibly achieve a hat trick after their victories in 2015 and 2018. "For us, the St. Barth Cata-Cup is an event not to be missed, almost a tradition! We are once again very motivated this year," says Patrick Demesmaeker, the helmsman and F18 Raid World Champion last August with his acolyte. "Three Apples (editor's note: Olivier's nickname) is an incredible sailor. He proved that in Sweden this summer and he proves it in Saint Barth every year. I have absolute confidence in him and I know that together, we have the means to do well, even if, once again, we will be facing incredible opponents!," notes Patrick Demesmaeker, primarily referring to top-name competitors such as Cruz Gonzalez Smith and Mariano Heuser. Winners of the last edition in 2021, the Argentinians are certainly among the men to beat, especially after their third place in the worlds for the class in Clearwater, Florida this month. But there are also other specialists of small sport catamaran racing not to be ignored, starting with Gurvan Bontemps and Benjamin Amiot, who continue to race after a victory following three second-place finishes in 2016, 2019, and 2021, as well as Tim Mourniac and Pierre-Yves Durand, to name just a few.
Regulars and Very Ambitious "Newbies"
"If Pierre-Yves has already competed in the regatta twice, as for me, it will be a new discovery, even if I have wanted to participate for a long time," relates Tim Mourniac, the young sailor from Morbihan in Brittany, whose father, Jean-Christophe Mourniac, raced to victory in the 2019 edition with Antoine Rucard. "This is really going to be a lot of fun since I am going to race with Pierre-Yves Durand, who is a friend and I started racing on F18 with him years ago. It has been a little while (7 years: editor's note), since we have raced together on this kind of boat but we have sailed together in the ETF 26 class, as well as with another flying boats," points out Tim Mourniac, winner of the Tour de France Sailing Race in 2018, Nacra 15 World Champion in 2016, and today a member of the Nacra 17 French team in a mixed dou with Lou Berthomieu. "There was some uncertainty about the second half of my season, but finally I have the opportunity to race in Saint-Barth. It will be really great to be on the starting line and battle against some of the best!" concludes Tim Mourniac, who could, as it happens, make things a little difficult for the top specialists in the field. The competition will certainly be something for spectators to enjoy!