Osteopathy – Massage – Sports medicine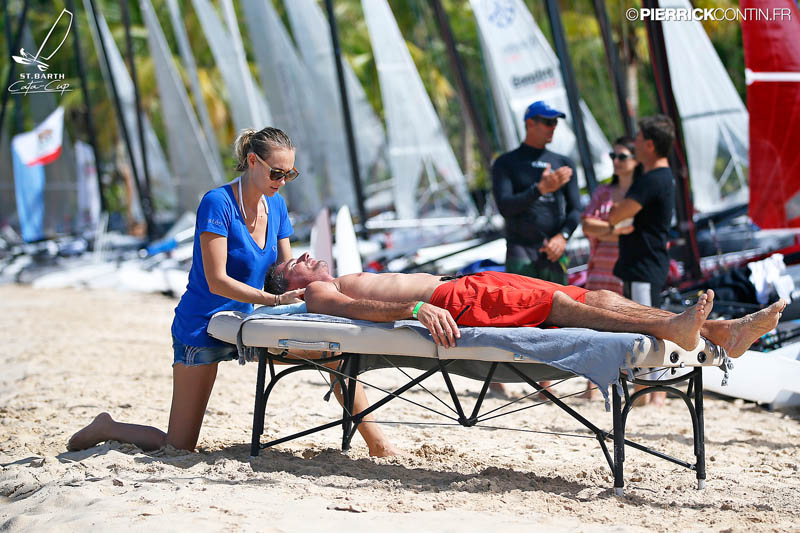 For the second consecutive year, the St-Barth Cata Cup is offering the services of a sports osteopath on the site of the race for adapted preventive or curative treatments.
Osteopathy and the St Barth Cata Cup
Like all athletes, in addition to the benefits of physical exercise you are also exposed to potential strain and various injuries inherent in the sport. The repetition of racing, challenging maneuvers and certain uncomfortable positions can cause major pain or discomfort that penalizes your physical performance.
Stéphanie GRÉVIN - Osteopath D.O
Stéphanie, osteopath, sports doctor, and former high-level athlete, will be present during the entire St Barth Cata Cup to provide any necessary treatment, personalized for each sailor. Such treatment is important to best prepare you for the competition and help you recuperate between races, with an eye toward diminishing risks and injuries while also optimizing your performance.
Principles, Methods of Osteopathy
Osteopathy is a branch of medical practice that emphasizes the treatment of medical disorders through the manipulation and massage of the bones, joints, and muscles. Both preventive and curative, osteopathy considers the entire human body and constitutes an approach that is complementary to other types of medicine.
An osteopath is concerned with the overall functioning of the patient.
Here's to great sailing in the 2016 edition of the St Barth Cata Cup.

Looking forward to seeing you soon,
Stéphanie GRÉVIN